Sponsoring opportunities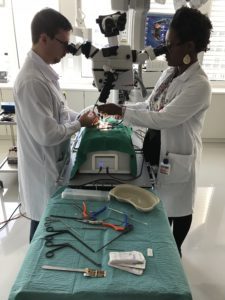 We welcome course sponsoring from surgical and interventional companies through grants, biomedical equipment, instrumentation and/or implants.
Medical industries have the unique opportunity to showcase their most recent products, test prototypes and get direct R&D feedback in a controlled environment.
Third-party equipment and instrumentation entering the SFITS is for training and demo purposes only. It shall leave the SFITS, only after being decontaminated by the SFITS team. In no circumstances, shall it be used on patients or brought in an operating room afterwards.
Neutral-ground approach
Medical associations and foundations may find in the SFITS the right partner to host and organize events.
The SFITS is an independant foundation, funded by the Geneva University Hospitals (HUG). Its board members are either members of the HUG board or the medical teams of HUG and Center Universitaire du Canton de Vaud (CHUV).
The SFITS is a neutral platform and welcomes any partners and medical associations without exclusivity.
 HUB for Innovation
Start-up companies, engineers and research groups may find in the SFITS a comprehensive hub to exchange idea, to discover new approaches, to explore and discuss innovative projects, and test protypes
The SFITS is a multidisciplinary platform that provides the surgical infrastructure and pools of professionals from various horizons.
We provide complete confidentiality for an R&D event within our Facility (NDA signed by our staff members and fully privatized room).