Innovation Discovery Showcase – 20th September 2018
Advances in 3D printing and additive manufacturing are transforming the landscape of surgical practices. Innovative approaches are being taken across a variety of surgical specialities, opening the possibility to radically change healthcare and revolutionise modern surgery.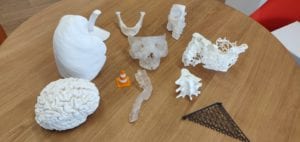 The SFITS Innovation Discovery seminar provided insights into some of the latest leading-edge developments and breakthrough innovations in 3D printing in areas such as anatomic models, surgical instruments, implants and prostheses. Leading practitioners from Oblong Innovation and Stratasys contributed to this event to share the latest advances being made.
The term 3D printing today refers to a wide variety of additive manufacturing techniques. Although engineers and designers have been using 3D printers for more than 30 years, recent advances have enabled innovative developments in multiple industry domains. It is now revolutionising healthcare with the creation of personalised prosthetics, bioprinting and tissue engineering, pharmacology and many other application areas. With continuous improvements in precision and speed as well as cost reduction, the medical world can benefit from breakthrough innovations in 3D printing. Exciting developments are also taking place with 4D printing techniques where the properties of items (physical, chemical, biological) can be programmed to change over time.